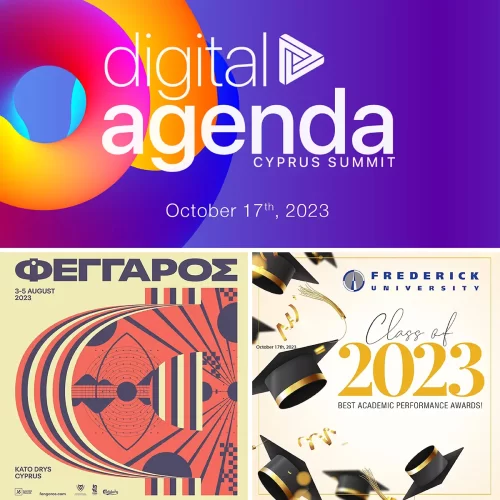 Corporate Social Responsibility Activities
In 2023, we wholeheartedly embrace our Corporate Social Responsibility (CSR) strategy, dedicated to making a meaningful impact on society through a range of diverse initiatives. Our commitment spans from recognising academic excellence to fostering creativity and innovation in the fields of law, music, and technology.
At LLPO Law Firm, we take immense pride in supporting the annual Alumni Awards Ceremony of Frederick University, where we honour exceptional graduates. As part of our commitment to education and the legal profession, we extend financial awards to outstanding law graduates who have demonstrated unparalleled academic competence. Through this gesture, we seek to inspire a new generation of legal scholars, fostering a culture of excellence within the legal community.
Additionally, we are delighted to announce our sponsorship of the Fengaros Festival 2023. This highly anticipated music festival is a celebration of diversity and creativity, bringing together artists from around the world to perform captivating acts. In continuation of our sponsorship commitment to the Fengaros Festival 2023, we are the platinum sponsor for Secret Concerts, an exciting post-Fengaros event scheduled to be held from September 12th to September 14th, 2023, in the vibrant city of Nicosia. By supporting these events, we contribute to the vibrant cultural community in Cyprus, enriching the lives of attendees and musicians alike.
As devotees of technology and innovation, we proudly lend our support to the Digital Agenda Cyprus Summit 2023. This paramount conference gathers A-class technology experts and policymakers to discuss the future of humanity from both regional and European perspectives. The conference aims to empower students and young minds, elevate global digital perspectives locally, and establish Nicosia as a creative hub for the world's digital agenda. Through this sponsorship, we strive to contribute to the advancement of technology and foster ideas that will shape a brighter and more sustainable future.
By sponsoring these diverse undertakings, we reaffirm our commitment to CSR, using our resources and influence to make a positive impact in education, culture, and technology. We believe that by supporting excellence and creativity, we contribute to building a better and more inclusive society for generations to come.